It's now just over a month since our celebratory conference took place on 17th May in Manchester. Over eighty colleagues gathered at the University of Manchester's Chancellors Hotel for a packed and pacy day.  We've sifted through the feedback and current Catalyse chair and practitioner course director Dawn Bennett has shared this with those who attended, contributed and made the day such a success.  In this blog we give an overview and a few images of the conference.
The people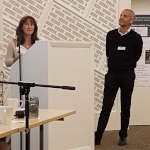 Dawn Bennett and Mark Evans led trainers involved from the practitioner course's earliest days in sharing stories of how it had come into being.  Both intentional and organically evolving processes seemed to have had a role to play. Some of the founding trainers had since moved on or changed roles. With an eye on the future, some were hoping to beckon and welcome in new blood to replace them. This was a key theme over the course of the day. It was both a celebration but also an invitation for people to become involved in the future of CAT practitioner training in the North.
Graduates attended from across most of the 25 years of the course's existence.  We hope that people managed to mingle and catch up with others in their cohorts. Some of those present had not yet taken the step of applying to train as practitioners. We hoped they might consider this at some stage, or find other ways to remain connected with the local CAT community.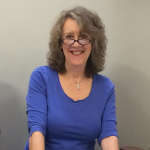 All were treated to meeting our stalwart administrator, Frances Free, face to face.  Frances keeps the whole Catalyse boat afloat remotely, with her customary good cheer, attention to detail and capacity to think for us all when needed.  She's infrequently in the North but the event gave us an excuse to bring her up.  This provided embodied proof that she's not just a legend, but also an expert meeter-and-greeter.
A rich day
The day included plenaries, workshops, plus small and large group discussions. We extend our gratitude to all those course graduates who stepped up to present something of their work. This includes many who offered taster workshops on how they'd integrated and developed CAT since qualifying. A number of suggestions for further CPD events emerged from feedback from these well-received sessions.
Glenys Parry's plenary on balancing risk and safety in CAT brought us up to date with her research into therapeutic harm. She kept quiet about her forthcoming book on this subject, but we suspect this will be a text worth having.
Regine Blattner and Rhona Brown shared a quirky CAT-based stop-frame animation they'd made while exploring creative approaches and six-part story narrative during peer CPD.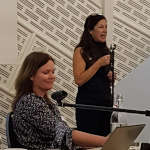 Marisol Cavieres and Karen Shannon described their six-month CAT Skills training. They iillustrated how CAT can enrich a Psychologically Informed Environment. Liverpool YMCA's services for people with multiple and complex needs was shared as an example of how CAT can be used  fruitfully at all levels of an organisation.
Kate Freshwater and Jenny Marshall went on to describe the overarching relational framework developed within forensic services at Tees Esk and Wear Valleys NHS Foundation Trust. The theme of CAT as an organisational tool via reflective practice ran throughout both of these presentations. It also featured in several of the day's workshops.
Research involvement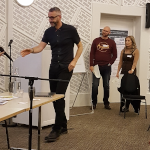 Steve Kellett, Rebecca Dalby and Nate Shearman presented early results of their latest meta-analysis.  This looks at both published and unpublished single case experimental design evidence in CAT. By the end of this presentation we felt that CAT training was indeed worthy of celebration. Results indicated hfirstly that large effect sizes for CAT were evident. Secondly, effectiveness of CAT was shown to be further enhanced when delivered by therapists trained to practitioner level or beyond. So it has been worth running the course all these years! Steve and colleagues are in the process of completing further analysis of this data.  We look forward to the full publication in due course.
Microphone in hand, Glenys Parry presided over quick-fire poster presentations with a firm but fair eye on the passing of sixty seconds. Supplementing what presenters could precis in their minute, posters around the room described past and current initiatives.   Some invited participation in new projects. We're pleased that conversations on the day about an informal meeting for research-interested colleagues in the North have since led to an initial date being set in July.
Our CAT tree
A CAT tree poster plus many sticky notes captured aspects of the journeys into CAT practitioner training in the north. People offered reflections on what they'd gained from training.  Comments were also left on what and who helped them sustain and nurture their practice day to day. Words shared will be worked into the CAT tree image, which will feature on our website and tweets.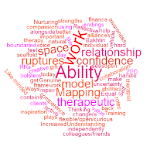 In the meantime we have an apple-shaped summary of the 'fruits' of CAT training. These are responses to the invitation to list "the gifts you've received through CAT and/or your practitioner training eg skills, resources, understandings".
Becoming more involved in Catalyse and the practitioner training
Part of the motivation for arranging this day was to encourage people to consider how we sustain CAT in the North into the future.  We were particularly keen to invite colleagues to become more involved in the practitioner course itself. The initial response to this invitation has been really encouraging.  People expressed interest in learning more about opportunities for involvement, what this means in practice and what commitment is required. Some firm offers were made too.  We're looking into how to work these in to the many aspects of work which running the course entails.
For others, a graded introduction to course roles was favoured. We're happy to offer small ways to be involved, with support. Hopefully this can help people become more familiar with the course and feel more confident to have a role. A helpful suggestion was the development of a peer mentor group or network of buddies.  This could serve as a way to connect those interested in being more involved with Catalyse, so they can support each other along the way.
To help progress possibilities for involvement, we're arranging a free 'CAT Futures' event for interested people. This will hopefully take place within the next six-to-nine months.
In the meantime, Jo Coggins has stepped forward to join the Catalyse Executive, taking on the role of CPD lead. We're really pleased that she's joined us and hope this will help action some of the ideas for continuing professional development which arose from the day.
CAT on Film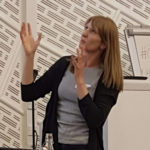 A further practical suggestion we've been able to act on promptly is a longer screening and discussion of the series of CAT training films which Kathryn Pemberton produced and directed. Kathryn gave the conference some background to these and showed brief snippets of the final material. We are now piloting the films with current practitioner trainees.
In response to interest, we've arranged for the films to be the focus for the next Cafe CAT on a new time and day of 7 – 9 pm on Thursday 4th July. All are welcome to attend this open event (£5 to cover costs) which we're excited to be holding at Manchester's HOME venue. We hope to organise a second screening in Sheffield in the autumn. If anyone has suggestions for a good venue for this, please let us know.
Was it only us who missed it?
Finally, we end with a reference to the title of this blog. Following this very successful day, it would have been tempting to get into a self-congratulatory-to-self-satisfied reciprocal role. We confess we might even have entered this tired but happy state of mind for the evening, fuelled further by a celebratory beverage or two. However the following day it was gently pointed out to us that, hidden in plain sight, the wording on our commemorative mugs had omitted a couple of key letters. 'Practitioner' had somehow remained 'Practioner', and we had missed 'it'. At least we'd been consistent. On checking, all promotion of the event over the preceding 6 months or more had contained the same error!
We've concluded this might be a nudge from the universe to remind us of three things:
1) striving procedures are highly likely to lead to disappointment;
2) it's very easy to see what we want to see rather than what is actually in front of us; and
3) people in our world might either see what we want them to see too, or be very polite in not pointing out our inevitable imperfections!
We hope all those who came along enjoy whatever they took away from the day, typos or not. We look forward to seeing how CAT in the North grows and develops over the next 25 years, with your support, enthusiasm and involvement.