A summary of Catalyse news and developments for 2017 is shown below.  If you would like to receive the PDF version of the Newsletter, please ask.
Welcome to the Catalyse Newsletter
A brief update on the latest news and developments which we hope will keep you in touch with local CAT activities and help you to remain involved. We also describe initiatives where we're inviting your involvement. We will report on:
Training: the CAT Practitioner course, our CPD programme, an exciting new format for CPD/networking and generally keeping 'in touch';
Supervision: CAT supervisor training and the new book;
Therapy: CAT personal reformulations

 

and our CAT therapy practice;
Catalyse:

 

A brief reminder of what Catalyse is all about; Associate membership, the website, and our social media presence.

 

There are details of an exciting project management opportunity at the end of this Newsletter.
If you have any queries about any item you should be able to find the answers on the website www.catalyse.uk.com or alternatively contact any of us directly or via the Catalyse administrator admin@catalyse.uk.com
Training : ACAT accredited courses
CAT Practitioner Course

The course continues to recruit about 23 trainees each year and to receive good feedback. Over the last year, under the new arrangements agreed by ACAT, we welcomed three trainees into year 2 who had completed a CAT one-year Foundation course (equivalent to year 1 practitioner) in another part of the UK. This will continue to be available, space permitting. You may be aware that this Foundation level of CAT training is now available within four Doctoral Clinical Psychology courses (Exeter, Lancaster, Liverpool and Sheffield) so in the future, newly qualified Clinical Psychologists from these courses who have followed this track can apply to join year 2 CAT Practitioner courses.
The Annual Residential at Wortley Hall – June, 2017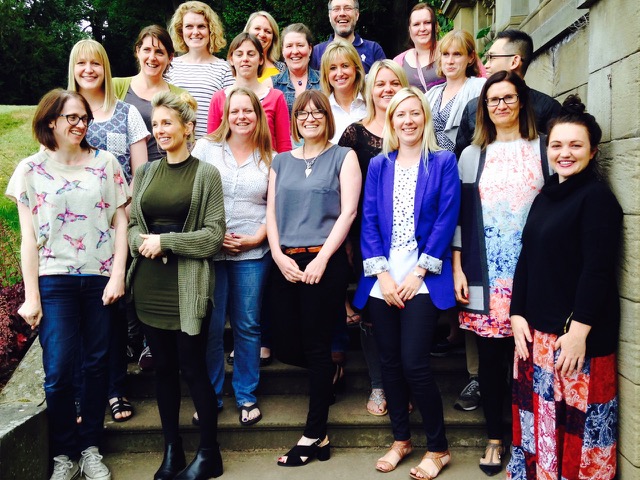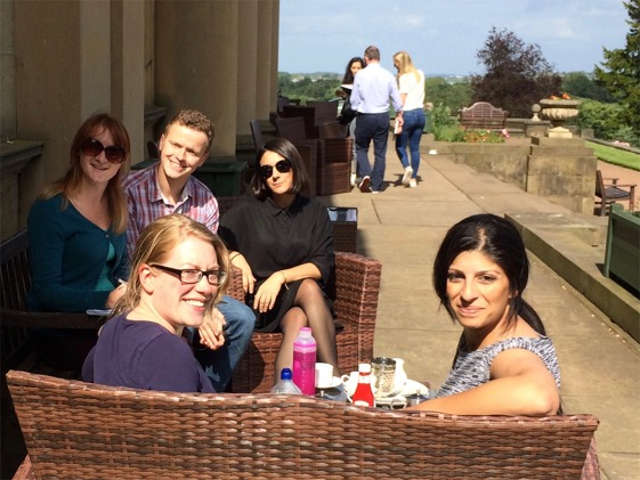 Practitioner course – other news
We are currently recruiting for next year's intake; as in previous years, we are likely to have a cohort of around 22 trainees. Thank you to those who are involved as visiting trainers, supervisors, seminar facilitators, training therapists and generally supporting trainees. Please get in touch if you wish to be more involved in any of these roles.
The core trainers' group – Dawn, Debby, Glenys, Lawrence, Marisol, Mark and Sarah has started to consider succession planning to allow a timely rejuvenation of the team before, as Glenys eloquently described "we all fall off the twig". Trainers stepping down can, if they wish, take on some roles behind the scenes and may do occasional training days. Lawrence, Debby and Glenys are stepping down over the next two years. After a difficult process of recruiting from a talented pool of applicants we are pleased to say that Ruth Carson has joined the core trainers' group. Ruth has been involved in recruitment and will teach next year.
New developments

As part of the year 1 case study assessment, we shall be providing trainees with feedback using the Competence in CAT (C-CAT) measure of a recorded session. We are also planning to produce some CAT skills DVDs for use across the 20 training days and to illustrate the CAT competencies. 
In addition to the Manchester-based CAT Introductory workshop offered by ACAT 15th–16th September, for the first time we are offering a two-day Introductory Training in Sheffield on two Saturdays, 30th Sept + 7th Oct 2017:
www.catalyse.uk.com/training/other-training-events/introduction-to-cat/
We are involved in other ACAT Accredited trainings at CAT skills and CAT Foundation level: The CAT skills case management course (6 months) successfully led by Karen Shannon and Marisol Cavieres in Liverpool YMCA homeless hostels will recruit openly and run in January 2018 as a national course, open to staff in caring roles/settings. Teaching is in Liverpool.  Over the next few years Catalyse will support the three Northern DClinPsychol courses as they implement the CAT Foundation Course contributing as trainers, moderators, supervisors and therapists (offering Personal Reformulation sessions – see below). In the future, we may explore running other Foundation courses. More details of these trainings can be found at:
www.acat.me.uk/page/cat+foundation+training
Dawn Bennett is Catalyse Executive group lead for the courses: practitioner and other ACAT accredited trainings.
Training : CPD Programme
Catalyse offers a broad range of Continuing Professional Development. Over the last year events have included working with medically unexplained symptoms, dreams, groups, the five session CAT consultancy approach and mapping mortality.
There are three events planned from now until November 2017:
A CAT Approach to Organisational Dynamics (

September

);
a repeat of The 5-Session CAT Approach: Skills Training (

October

) and
Working with Self Harm (

November

). 
Details of all forthcoming workshops can be found here.
New developments
We plan to develop a series of post qualifying CPD, booster 'masterclass' sessions as a rolling programme for graduates of the CAT Practitioner training. We should like to increase the range of topics and trainers, tapping into the expertise, skills and talent of CAT graduates. We need you! You will be approached soon as we work to build on the CPD programme. How are you using or extending CAT?  Can we encourage you to run an event?
Karen Shannon is Catalyse Executive group lead for CPD. Contact Karen with any requests for masterclass and CPD events and any offers to lead events.
Training/Network/Social : Projects Forum becomes Café CAT!
The Projects Forum was established as an 'open door' for anyone to discuss ideas with a group of core, active Forum members. We saw the Forum as an incubator and container to support anyone wanting to offer something new under the umbrella of CAT and welcomed members wanting to make a contribution to promoting CAT through putting on training events. The Forum contributed to shaping numerous CPD events and was also used to:
develop opportunities for offering personal reformulations and sharing good practice

share and nurture consultancy opportunities

discuss ideas related to the development of a model for a group private practice (Sheffield) 

discuss symposia and research proposals 

share different ways of adapting the CAT model to meet different needs  

piloting one-hour "Skills Labs", an opportunity to share and practise skills relevant to CAT with peers
Attendance reduced over the last year and we wondered if the Projects Forum had served us well but achieved its purpose to establish a broad range of local CPD events. We decided to launch an idea that had emerged with the Forum – Café CAT…
Café CAT is an exciting new evening event and more detail has probably already reached you. We have two confirmed events with other topics in the pipeline. Café CAT is an open facilitated conversation to share knowledge and experience running from 6.15-8.15pm on Wednesdays in Central Manchester (Z-arts Centre, M15 5ZA). We are keen to run Café CAT in other locations. There is a £5 entry fee to cover room hire. You are most welcome to join us for:
What State are we in? Reviewing how states are incorporated into maps and our work – (11th October 2017) and
Exploring CAT tools, what's kept post training? – (24th January 2018)
Not to be confused with the Cat Café – we don't have any cats to stroke www.catcafe.co.uk
Thank you to Cheryl Delisser and Clive Turpin who nurtured and led the Projects Forum over the years and to those who attended and helped to develop ideas and events. It was a positive and supportive network and we hope that you will find Café CAT a stimulating and exciting new opportunity.
Clive Turpin will be the Catalyse Executive group lead for Café CAT. Contact Clive to suggest themes or lead a session.
Supervision : ACAT accredited courses
To continue to run our trainings we need to call on ACAT accredited supervisors – and trainees need to have access to supervision as locally as possible. Training is facilitated and fees reduced if trainees can be supervised 'in house', so supervisor training is a good investment for Trusts and other services which plan to include CAT. There are some areas with a high demand for supervision and few, if any, ACAT accredited supervisors. You will be aware from Dawn's recent ACAT update on the 'call for supervisors' and development of the DClinPsychol courses that there is a need for more ACAT accredited supervisors to support the training and provision of CAT placements for the Foundation courses.
The ACAT supervisor training route is described on the ACAT website and for the first phase you can sit in on supervision groups for six months or attend an intensive skills ACAT accredited supervisor training workshop. These have been residential near Evesham for many years but the recent one in June was held in Surrey. They have always been oversubscribed. Catalyse designed and ran an ACAT accredited supervisors' workshop in December 2016 in the North, hosted by Merseycare NHS Trust but open to others, to support CATs in this stage of training. This workshop was highly rated and will run again on 30th November and 1st December 2017 in Manchester (bookings via www.catalyse.uk.com/training/other-training-events/cat-supervision-workshop-30-nov-1-dec-2017/. It is likely that Catalyse will run an annual event in the late autumn in the North to supplement the annual event in the Midlands or South.
The above Catalyse ACAT accredited Supervisor training workshop will be led by Debby Pickvance and Sarah Littlejohn and reflects the experience gained by Debby in editing her praised and well received book on CAT supervision. Seven Catalyse Associates are amongst the CAT colleagues contributing to Cognitive Analytic Supervision: a relational approach edited by founder member Debby and published in September 2016
Sarah Littlejohn is Catalyse Executive group lead for supervision. Contact Catalyse to book the event or Jane Stephens External Examiner for ACAT supervisor training if your query is related to the overall training.
Therapy
Personal Reformulations
The PR approach is now relatively well developed. It is the personal development component of CAT Skills and Foundation courses and has also been the personal development component of some DClinPsychol courses even prior to them offering CAT Foundation Courses. The aim of a PR is to offer participants the opportunity to explore with a CAT therapist, what it is 'they bring to work'.  The starting point for this experience is often through reflecting upon the use of self in relation to a clinical case or scenario and focuses upon the shared mapping out of patterns, roles and coping strategies that have most bearing on professional practice. The format is typically one of two forms: an extended single session of up to 3 hours with a break, or more usually a two hour session with a follow-up session at an agreed interval. Catalyse has a group of Associates who provide PRs and who meet regularly to share best practice.  It is rewarding work.
Clive Turpin is Catalyse Executive group lead for PRs.  More information on PRs is available on the web page here, and Clive has also written two blogs.  One answers common queries about PRs (link here) and the second focusses on preparing for a PR (link here).
Catalyse Sheffield
Catalyse Associates have established a not-for-profit independent psychotherapy practice based in Sheffield. The practice offers cognitive analytic therapy, an occupational mental health service, and CAT-based coaching for public sector staff.  Psychotherapy supervision is also offered for people providing therapy in the NHS and other settings.  We set up the practice within Catalyse to provide accountability and develop policies, procedures and a funding model that could be used by other Associates wanting to work outside the NHS but within a supportive social enterprise.  You may be interested to work with Catalyse Associates and explore the advantages of working with peers and establishing Catalyse therapy services elsewhere.  The practice has its own website oriented to people seeking therapy: www.sheffield.catalyse.uk.com
Glenys Parry is Catalyse Executive group lead for Sheffield Practice for further information.
Research and Evaluation
Catalyse has a number of Associates skilled and experienced in research and evaluation.  We are currently evaluating the CAT work conducted by Karen Shannon within the Liverpool Waves of Hope; an initiative for the homeless with complex mental health needs.  This includes an intensive support service and a YMCA hostel based service. We shall present results from the ISS at the Society for Psychotherapy Research European Conference in Oxford in September 2017.  We are also planning to evaluate the YMCA service.  From an initial CAT skills course to non-therapy trained staff this has expanded with very positive results. It is early days to offer information about this project … but we hope to report on it in the coming year.
Glenys Parry is Catalyse Executive group lead for Research and Evaluation.
So … what is Catalyse and what is a Catalyse Associate?
Catalyse is a social enterprise, a not- for-profit organisation, offering CAT training, CPD, therapy and consultancy across the North of England. We have been working together for twenty years providing high quality training and other services in CAT to staff working in the NHS and other public sector organisations. Catalyse is a virtual organisation without a centre or an office. It functions in an open and accountable way and is overseen by an Executive Committee. In addition, a larger network of Catalyse Associates provide services. The Executive Committee meets regularly to agree direction and priorities, and to co-ordinate Catalyse activities, on which particular Executive members lead. The newsletter illustrates our current work and the leads but for a full description please visit 'About Catalyse' catalyse.uk.com/about/about-catalyse/
Cheryl Delisser has decided to step down from the Catalyse Executive group in part because the evolving roles of the Exec have meant there is no work stream for Cheryl to lead and in part so that she can preserve her energy for other roles in her life. We thank Cheryl for her valuable contribution, particularly in co-leading the Projects Forum, her substantial contribution to the Personal Reformulation work stream and her positive, and wise presence in Executive planning meetings. Cheryl will remain an Associate offering Personal Reformulations and contributing to the Practitioner course.
Catalyse Associates are Cognitive Analytic Therapists (CAT practitioners, psychotherapists, trainers, supervisors) who offer training, consultancy, therapy, personal reformulations, coaching and other CAT-based services. They work as sole traders, entitled to trade under the Catalyse identity, but as well as being paid for our CAT work, through working together we also generate excess income.  Unlike a commercial firm, this is not profit distributed to shareholders or given as staff bonuses, but is reinvested with the following aims:
to develop new services,

to provide services that are needed but do not generate much income (cross-subsidy),

to provide support for Associates,

to further our strategic aims. 
Being a Catalyse Associate is entirely compatible with private practice no less than NHS practice, and a number of Associates have their own independent trading identity as well as working with us.
Because we're not a membership organisation and we want to build our reputation, we are not looking to expand quickly.  At present there are about 30 Associates and we anticipate that in the normal course of events, some people will leave and will be replaced.  All Associates are members in good standing of ACAT, are able to actively contribute to one of the work streams and are experienced and active CAT therapists whose work is known to others in the group.    
Sarah Littlejohn is Catalyse Executive Chair. Contact Sarah for further information about our work or if you are interested in working with us.
Website and Social Media
Our Catalyse website www.catalyse.uk.com was revised just over a year ago and is maintained by Rhona Brown.  It contains up-to-date information about events and links to a range of CAT information.  It also has a blog which you can subscribe to.  This means you'll be alerted to new blogs by email.  You can comment on blogs and you can even write one of your own. If you're interested in writing something, let us know and we can share some blogging guidelines with you.
Rhona also looks after the Catalyse Twitter feed. This helps to promote our events and activities but is also a way to stay informed and connected to CAT-related information and networks more broadly.
Please check in, follow us on Twitter, offer to write a blog and help us to promote CAT.
Rhona Brown is Catalyse Executive group lead for Website and Social Media. Contact Rhona if you have any feedback about the website or our presence in social media .
Project Management Opportunity
We are excited to invite applications for this temporary position (see attachment below) which will help us to realise a long-held aim of producing audiovisual training resources.  Please consider whether you have the mix of skills we're seeking, or alert others in your networks whom you think may be interested.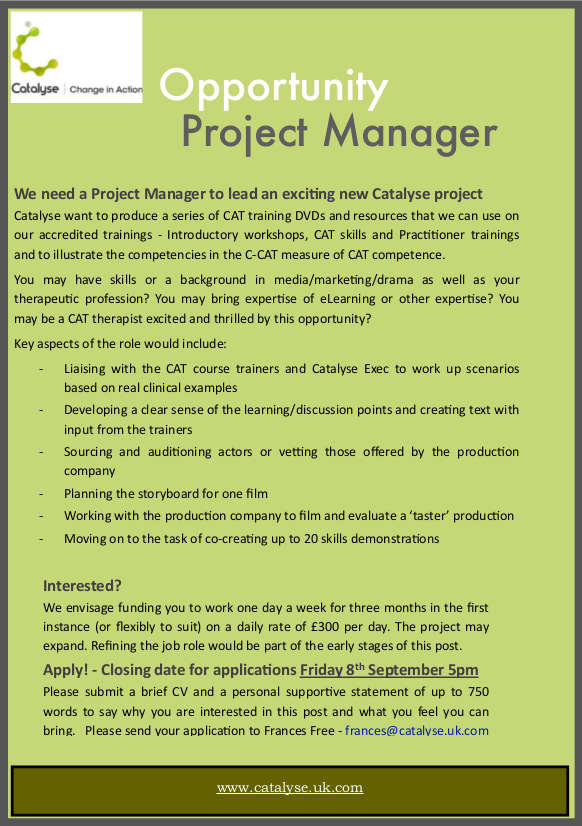 Finally, a huge thank you to Frances Free who assists with all our activity and who created this newsletter in conjunction with Dawn Bennett
PManager-Advertv.pdf