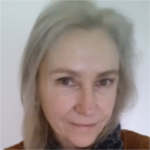 Area:  Online
Email: mandywildman@icloud.com
I am an ACAT accredited CAT Practitioner and have worked in NHS mental health services for 20+ years, in both community and inpatient settings. From 2000 I worked in forensic psychiatric services as a clinician and manager. Working in these differing roles was valuable in developing an understanding of the different pressures we encounter in our work; and of how these pressures can impact on our lives and relationships.
I left the NHS in 2013 to develop a private practice, in which I enjoy working very much. I also work with Group Analysis North, an organisation offering group analytic training, supervision and other activities. I facilitate practice reflection and personal development groups, offer consultancy, training, supervision, and work with a service user network to provide low fee therapy. I work with people experiencing a range of difficulties, and have a special interest in working with complex PTSD and trauma related issues. More recently I have developed an interest in working with more difficult to define unhappiness and loss of self and identity and find CAT to be an invaluable model in considering how we view the world and our relationships within it.
I appreciate many aspects of CAT, finding the personal reformulation to be an accessible and constructive way to begin to think about patterns in relationships, explore specific issues and develop greater self-awareness and insight into how we function in the different areas of our lives.  I also consider the CAT model to be helpful in exploring past issues in a safe and containing way. In addition to CAT being an effective model for personal reformulations and therapy it can also be of great benefit in understanding team and organisational dynamics, so can help us work more effectively in teams, and develop in management and leadership roles. I have also trained in psychodynamic, group and mentalization based therapies and continue to use these models in my work.