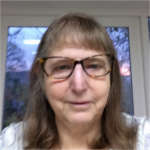 I am an ACAT/UKCP accredited psychotherapist and supervisor, who has worked for 40 years in the NHS as a clinical psychologist with CMHTs, inpatients, outpatients, day services, physical rehabilitation and multidisciplinary pain clinics. I have also contributed to non-statutory helping agencies and adult education. Following retirement as a consultant psychologist, I moved to Cumbria where I started a local network to support CAT practitioners and make CAT more accessible in the area.
Since setting up my first experiential staff group in 1976, I have always been involved in staff support, peer support and training around personal development. CAT integrates the most helpful elements in humanistic, cognitive and psychodynamic approaches that I have previously explored. I value the collaborative and transparent stance of this therapy, and its emphasis on learning through "doing together". It gives due weight both to the importance of early experience and to the context in which problems develop.
The expectations and demands on (trainee) therapists can feel highly stressful but understanding through personal reformulation of our own reciprocal roles and procedures can help towards managing this, as well as giving an experience of being "in the other chair". My article "Past Hurts and Therapeutic Talent" (Reformulation 2012), discusses the importance of therapist self-reflection to enhance client care.