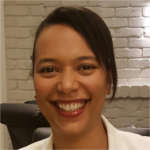 I am a UKCP Registered CAT Psychotherapist and ACAT accredited CAT supervisor working in Manchester. I completed my CAT Practitioner training in 2009, and my CAT psychotherapy and supervisor trainings both in 2013.
I currently work as an adult psychotherapist offering individual and group CAT to adults with secondary care mental health needs in a NHS specialist psychotherapy service. I have enjoyed working in adult mental health for over 15 years in a diverse number of roles and settings. This has included working directly with patients on acute psychiatric wards, working with families whilst based in a Community Mental Health Team, and in a specialised group therapy service offering a variety of modalities.
Alongside CAT I have formal training in Person Centred Counselling, CBT, Group Analysis and Psychodynamic Interpersonal Therapy (PIT). I have a particular interest in offering CAT in therapy groups and supervision, and in using CAT to increase insight with the use of active mapping, to understand the impact of social identity on relationships, and to increase relational awareness for people in both therapy and non-therapy settings.
I have offered workshops for Catalyse and ACAT on topics such as CAT groups, working with self-harm and themes of difference.  I currently have roles as seminar leader and marker for the Catalyse practitioner training, and personal tutor and marker for the CAT psychotherapy training. I also offer CAT supervision, training therapies and personal reformulations.  I am also an ACAT trustee.
Publications
Turpin, C., Adu-White, D., Barnes, P., Chalmers-Woods, R., Delisser, C., Dudley, J. & Mesbahi, M., 2011. What are the important ingredients of a CAT goodbye letter?. Reformulation, Winter, pp.30-31.